THE OFFICIAL WEBSITE OF
TOBY
SALGADO
Serial Entrepreneur
SOME WILL SAY THAT I'M
ADDICTED TO RISK
I got an early start. My first "business" was at age 9. I saw an magazine advertisement selling toilet bowl cleaners wholesale. The ad said that the cleaners had a "double your money back guarantee". At first I thought of buying them and returning them for double my money but, after learning from my parents I couldn't do that I still wanted to see if I could make any money from this "opportunity". I had about $300 dollars and I borrowed another $500 from my parents.
I invested all of my lawn mowing money and my $500 dollar loan into toilet bowl cleaners. I went door to door and sold them all in a few months.
Author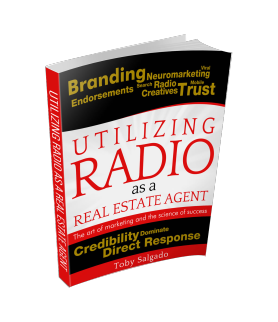 Utilizing Radio as a
Real Estate Agent
Radio isn't as sexy as TV but, its far more effective in its reach, targeting and intimacy. Radio is an extremely powerful medium to reach hundreds of thousands of people in a single spot yet, only a rare few understand how to properly craft a radio campaign. In the book I unveil all the secrets of a radio insider
Entrepreneur Mentor
I have mentored hundreds of high-performance entrepreneurs and over achievers through private programs or one-on-one mentoring. I help business owners optimize their results. Many times people just don't know why their business is not firing on all cylinders. Sometimes its a lack of experience and other times its an entrepreneur being scared to take that next step and they are not aware they are throttling their results. Many times its because they are living inside their businesses and simply cannot be objective.
My Story
A Humble Beginning
I come from very humble beginnings and a strange home life. I grew up with a very religious mother and an alcoholic father. Neither one of my parent's ever attended a day of college and I never got to know my grandparents. In a lot of way's I always felt like I couldn't rely on anyone. I am the oldest of 5 children. I was told to be the example. Maybe because there was 5 of us and my parents were busy but, hugs came rarely and kisses were non-existent. My parents were not the soft nurturing type and growing up like that hard-wired me for achievement.
Very early on I vowed to be the first person in my whole family line to go to and finish college. I got into UCSD.
About Toby Salgado
Individual
I was a strange kid. Growing up my mom was always telling me that I needed to be different than "those other kids". I was told not to do what the "other kids" were doing. I wasn't allowed to join any sports teams or go to my friends homes. As a result I found myself doing solo sports and building things by myself. Whether that was grinding down an old edger blade to make a Chinese throwing star or building jumps for my BMX bike; I was always building something or planning on building something.
More than building I was always dreaming. Envisioning the life that I could create. I knew at some point I would be free to determine my destiny and make my own choices. I chose success.